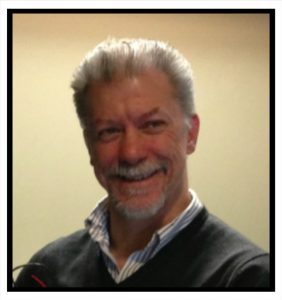 Joseph B. Cordes, PT/CFP, LLC
Owner/Founder of Sound Body, Sound Brain: Somatic Education Center
Joe offers over 30 years experience as a manual therapy oriented physical therapist, and has a deep commitment to true "integrated" care. His training includes osteopathic training through MSU-COM, craniosacral techniqe via MSU-Sutherland style, as well as the Upledger Institute, extensive acupressure training via Justin Pomeroy and LifeGate Center,  and Feldenkrais Method® via Reese Movement Institute. A certified Movement Teacher (1997) by the Feldenkrais Guild of North America, Joe has attended annual Avanced Feldenkrais trainings with Francois Combeau for 14 years.  Joe has extensive energetic balancing skills via acupressure techniques, reflexology, and tibetan healing.  He is certified EEG biofeedback trainer (2004) Zengar, as well as being a Certified Listening Program Provider (2004) Advanced Brain Technologies.
Joe's goal is to enhance the health and restore function of the brain and body with movement techniques, awareness, and sensory integration. He works with children of all ages and adults.  Joe practices meditation, Palm Tai Chi, and Qigong.  Living life with mind, body, & spirit balance is his highest priority, and seeks to empower others to do the same.
Joe is also an experienced and sought after teacher.  He has organized the West Michigan Feldenkrais study group for over a decade.
Karel Millard, BA/GCFP
Karel Millard, BA/GCFP began working in 2000 at the holistic center Sound Body, Sound Brain with Joseph Cordes, PT/GCFP. She joined his therapeutic team in 2010 after completing her training in acupressure, neurofeedback trainer (2004) Zengar, and the Feldenkrais Method® (certified by Jeremy Kraus in 2009, certified by the  North American Feldenkrais Guild, and has attended annual Advanced Feldenkrais trainings with Francois Combeau).  Karel runs two Awareness Through Movement® groups each week for our company.  Many of these group members become clients of hers as well, seeking Functional Integration work blended with her acupressure and psychology training.
In 2012, Karel was introduced to ATMAT R , the Arvigo Techniques of Mayan Abdominal Therapy®. Karel felt so changed by these time honored techniques, she became a certified practitioner in April of 2016 and has just recently completed (October 2017) the Arvigo Techniques of Maya Abdominal Therapy® – Supporting Pregnancy from Preconception through the Postpartum Period.
In 1995 she graduated from GVSU with a degree in Psychology/Special Education and taught students with learning, cognitive, and hearing impairments. Karel believes that each person contains the potential for healing and wholeness within themselves and she is passionate about helping them to unlock and enhance that potential. An avid student of yoga, meditation , qi gong and mindful living, she expresses the ideal: "FUN ENHANCES LIFE."